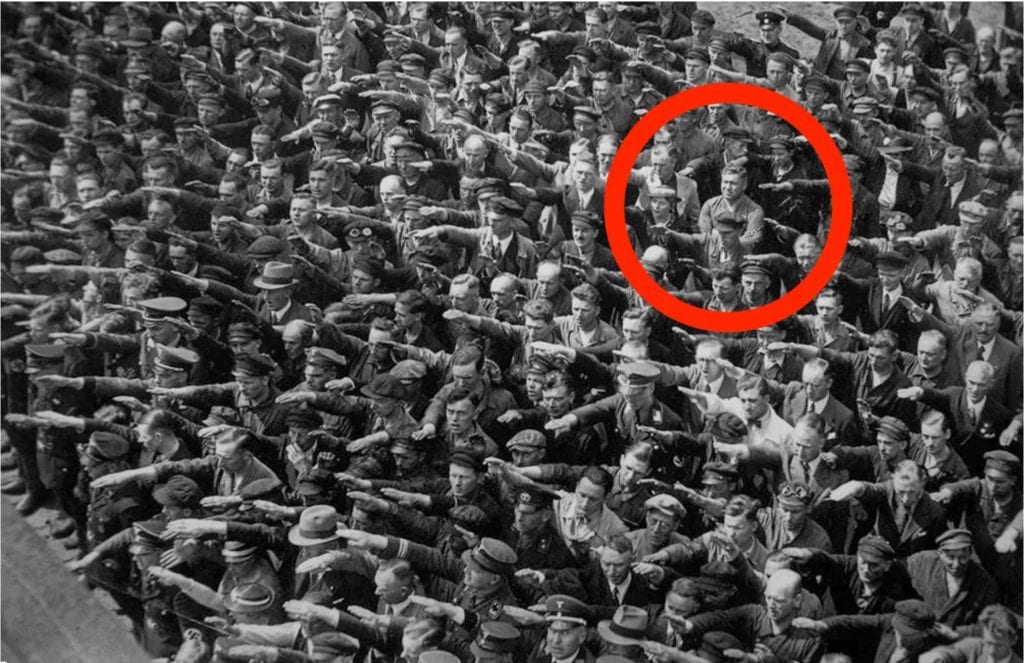 The only time I will take a knee is when the Beast's sword is on my neck, because I will refuse to give my allegiance to the Beast.
The protests we are witnessing have nothing to do with George Floyd. Marxist opportunists are successfully exploiting the man's death for their Statist ends. And you can have a moment of silence without kneeling. So why the kneeling?
Make no mistake about it, kneeling represents conformity to the creeping totalitarianism. They are kneeling out of fear.
https://www.breitbart.com/politics/2020/06/05/democrat-senators-kneel-during-moment-of-silence-for-george-floyd/
What is interesting is how quickly things are changing. I have repeatedly over the years said that the Antichrist's emergence, to domination, and to demanding worship, will happen fast. This is why Jesus in Matt 24:25 warns ahead of time to determine your stand. If you do not take your stand now then you will not be able to get your spiritual house in order during the great tribulation.
There are eschatologies out there that are preparing believers to be vulnerable for the Antichrist. Pretribulationism falsely teaches that we will be raptured before the beast's persecution of Christians. Preterists teach that there is no future Antichrist since he already came and went 2,000 years ago. Idealists believe that the notion of the Antichrist is an idea and not an actual person. Amillennialists, and many posttribulationists, believe that the Antichrist is also not a person but an institution.
One day, all humanity will be demanded to worship the Beast and his image. To be sure, many willingly will worship him thinking that he is the Coming One to bring "peace and safety."
This is why eschatology matters and is not some incidental matter. It prepares us to be discerning. Christian leaders who minimize the study of biblical prophecy minimize the severe warnings of our Lord on these matters and thereby render Jesus himself as disingenuous.
The Beast is coming. And he is coming to demand unqualified worship. Will you bow the knee out of fear to save your life? Jesus is the only one worthy to give our allegiance to.
"Then I saw a beast coming up out of the sea. It had ten horns and seven heads, and on its horns were ten diadem crowns, and on its heads a blasphemous name.Now the beast that I saw was like a leopard, but its feet were like a bear's, and its mouth was like a lion's mouth. The dragon gave the beast his power, his throne, and great authority to rule.One of the beast's heads appeared to have been killed, but the lethal wound had been healed. And the whole world followed the beast in amazement; they worshiped the dragon because he had given ruling authority to the beast, and they worshiped the beast too, saying: "Who is like the beast?" and "Who is able to make war against him?"The beast was given a mouth speaking proud words and blasphemies, and he was permitted to exercise ruling authority for forty-two months. So the beast opened his mouth to blaspheme against God—to blaspheme both his name and his dwelling place, that is, those who dwell in heaven. The beast was permitted to go to war against the saints and conquer them. He was given ruling authority over every tribe, people, language, and nation, and all those who live on the earth will worship the beast, everyone whose name has not been written since the foundation of the world in the book of life belonging to the Lamb who was killed.If anyone has an ear, he had better listen! If anyone is meant for captivity, into captivity he will go. If anyone is to be killed by the sword, then by the sword he must be killed. This requires steadfast endurance and faith from the saints. Then I saw another beast coming up from the earth. He had two horns like a lamb, but was speaking like a dragon. He exercised all the ruling authority of the first beast on his behalf, and made the earth and those who inhabit it worship the first beast, the one whose lethal wound had been healed. He performed momentous signs, even making fire come down from heaven to earth in front of people and, by the signs he was permitted to perform on behalf of the beast, he deceived those who live on the earth. He told those who live on the earth to make an image to the beast who had been wounded by the sword, but still lived. The second beast was empowered to give life to the image of the first beast so that it could speak, and could cause all those who did not worship the image of the beast to be killed. He also caused everyone (small and great, rich and poor, free and slave) to obtain a mark on their right hand or on their forehead. Thus no one was allowed to buy or sell things unless he bore the mark of the beast—that is, his name or his number." (Rev 13:1–17)