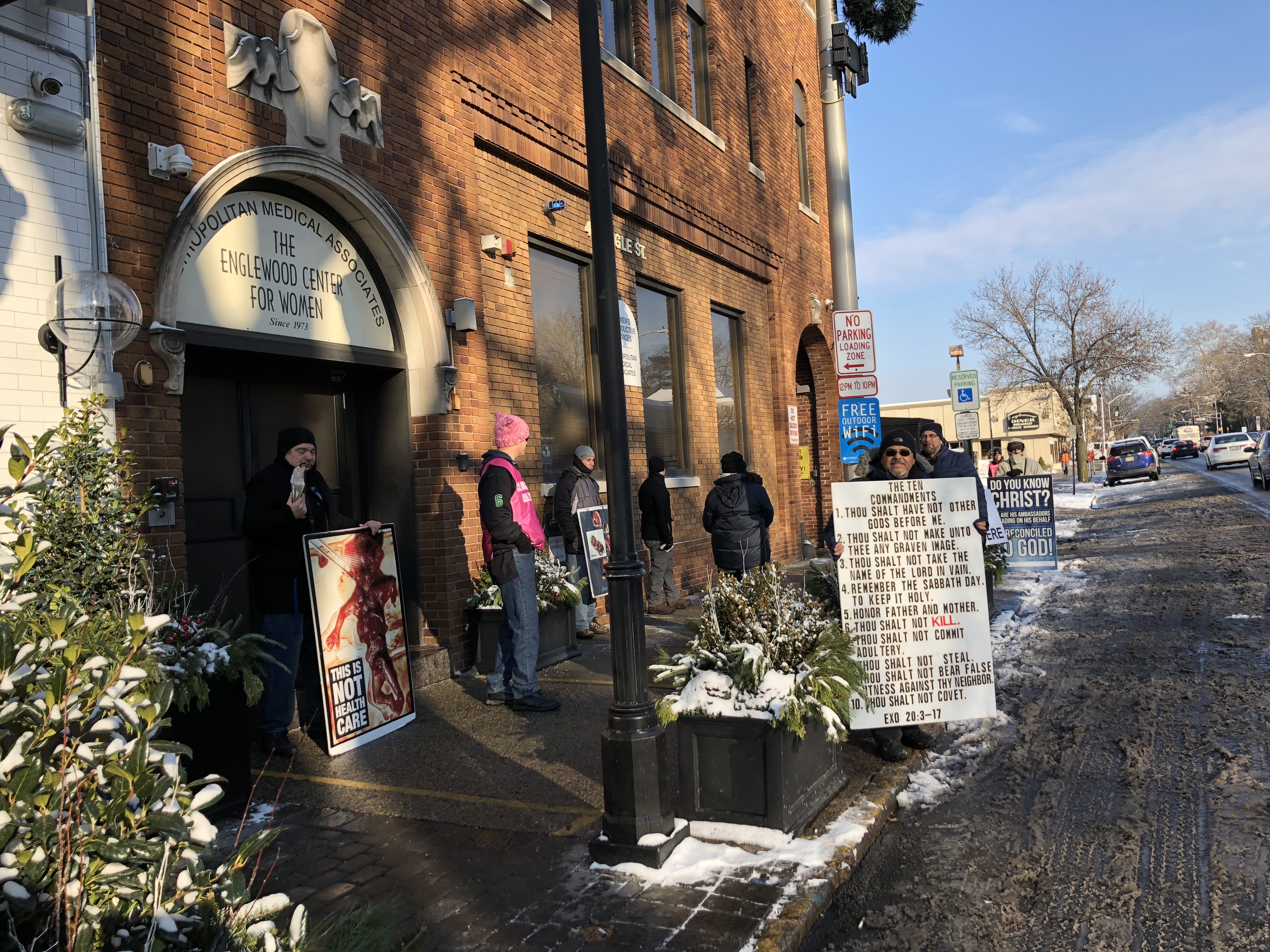 Part of Eschatos Ministries' mission statement says that we exist to proclaim the Gospel of the second coming of Jesus to the lost. Jesus did it. So did his disciples, including the apostle Paul. We must do the same. Jesus is coming back either as Savior or Judge.
This morning some church friends and myself went to the largest abortion clinic in New Jersey telling people to repent of their sins because the return of Jesus is nigh.
Some mocked. Some were indifferent. Some listened.
Many babies this morning were murdered being torn apart or burned to death by the abortion "doctor." Satan was certainly not bound in the abyss this morning! Abortion is unabated Satanic activity.
But thanks be to God, one of the many women who entered the abortion mill heard the gospel message and changed her mind, and got her money back. The gentleman with her came out and hugged Rob Parker for vocalizing the message through the abortion doors (he is in the photo standing next to the door with the placard). Pray that this woman's conviction is genuine and that the Spirit will convert her to Christ.
I was able to have some fruitful discussions with several people, including an Uber driver who dropped off a mother to kill her baby, sadly. The driver was receptive to the gospel. Pray that the Spirit will convict him. His Word does not return void.
It is always a special unction to get out on the streets proclaiming God's message to the lost of how they can have true peace, lest they experience the soon-coming day of the Lord's wrath. "Look! I am coming soon, and my reward is with me to pay each one according to what he has done!" (Rev 22:12)
Pray that God restrains the wickedness of abortion in this land and bring repentance to abortion doctors and the politicians who support and celebrate their monstrosity of evil.
If you live in North Jersey and belong to a Bible believing church come join us. You can contact me for details.
"Then I saw another angel flying directly overhead, and he had an eternal gospel to proclaim to those who live on the earth—to every nation, tribe, language, and people. He declared in a loud voice: "Fear God and give him glory, because the hour of his judgment has arrived, and worship the one who made heaven and earth, the sea and the springs of water!"" (Rev 14:6–7)