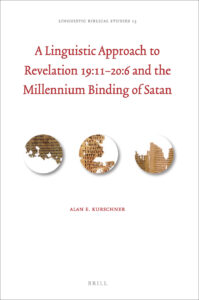 I am pleased to announce that my dissertation was published in the respected Brill series Linguistic Biblical Studies: A Linguistic Approach to Revelation 19:11—20:6 and the Millennium Binding of Satan. Linguistic Biblical Studies 23 (Leiden: Brill, 2022).
If you appreciate Greek and the book of Revelation, then this book is for you. It is arguably the most rigorous defense of premillennialism in print.
Here is the description:
This study argues that the establishment of the millennium binding of Satan and the vindication of the saints in Revelation 20:1–6 are cohesively linked with Jesus's victorious battle in Revelation 19:11–21. The major implication of this analysis views both these events as consequent effects of Christ's victory at the eschatological battle. Applying systemic functional linguistics and discourse analysis of cohesion, this study advances critical scholarship on the Book of Revelation by offering the first fully sustained answer to this frequently debated question regarding Satan's binding from a modern linguistic approach.
It is best to purchase the volume through the publisher here. You can also order it on Amazon.
As a preview, you can view the Front Matter and the first two pages of each chapter here.
Since Brill tends to be quite pricey, if you want to attain a copy other than paying for the hardcover, there are two options:
1) Make a request to your local college or seminary acquisitions librarian to purchase this volume for their library. They will need the title information.
2) While the volume is in hardback format, Brill now offers the nicely priced "My Book" program, meaning a paperback copy can be purchased for only $25, provided the user's institution has purchased the e-book version of the work via Brill's own platform, Brill.com.