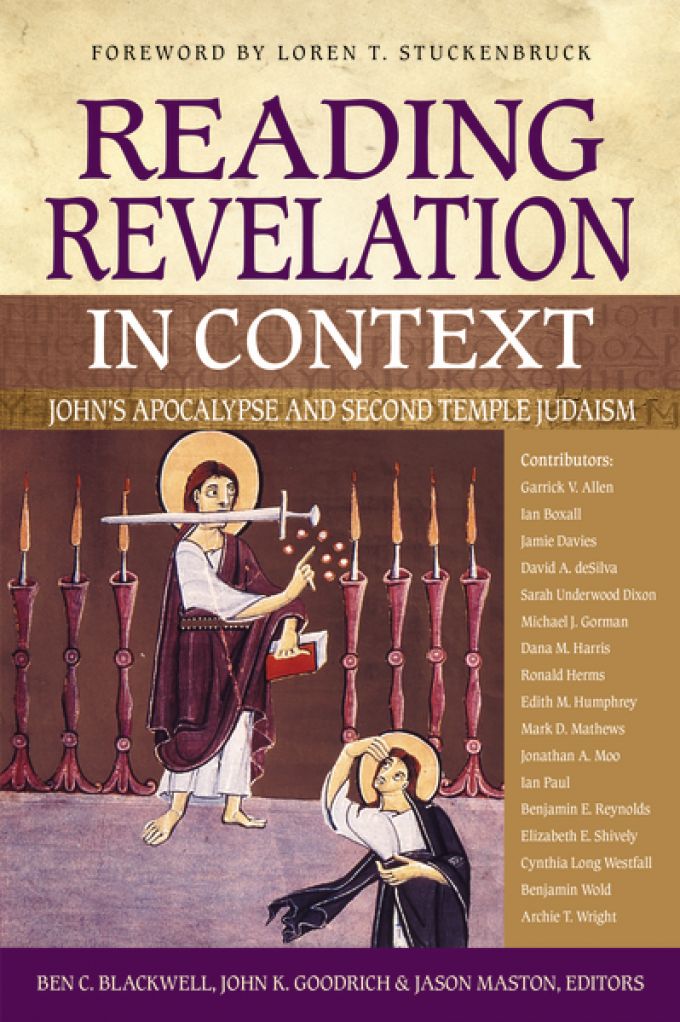 Reading Revelation in Context: John's Apocalypse and Second Temple Judaism
(Editor), John K. Goodrich (Editor), Jason Maston (Editor), Loren T. Stuckenbruck (Foreword)
Get it at Amazon
Reading Revelation in Context brings together short, accessible essays that compare and contrast the visions and apocalyptic imagery of the book of Revelation with various texts from Second Temple Jewish literature.
Going beyond an introduction that merely surveys historical events and theological themes, Reading Revelation in Context examines individual passages in Second Temple Jewish literature in order to illuminate the context of Revelation's theology and the meaning and potency of John's visions. Following the narrative progression of Revelation, each chapter (1) pairs a major unit of the Apocalypse with one or more sections of a thematically related Jewish text, (2) introduces and explores the historical and theological nuances of the comparator text, and (3) shows how the ideas in the comparator text illuminate those expressed in Revelation.
In addition to the focused comparison provided in the essays, the book contains other student-friendly features that will help them engage broader discussions, including an introductory chapter that familiarizes students with the world and texts of Second Temple Judaism, a glossary of important terms, and a brief appendix suggesting what tools students might use to undertake their own comparative studies. At the end of each chapter there a list of other thematically relevant Second Temple Jewish texts recommended for additional study and a focused bibliography pointing students to critical editions and higher-level discussions in scholarly literature.
Reading Revelation in Context brings together an international team of over 20 New Testament experts including Jamie Davies, David A. deSilva, Michael J. Gorman, Dana M. Harris, Ronald Herms, Edith M. Humphrey, Jonathan A. Moo, Elizabeth E. Shively, Cynthia Long Westfall, Archie T. Wright, and more.
Editors
Ben C. Blackwell (PhD, University of Durham) is associate professor of early Christianity at Houston Baptist University. He has authored a number of essays and articles related to Historical Theology and the New Testament, including Christosis: Engaging Pauline Soteriology with His Patristic Interpreters. He is currently working on new monograph: Participating in the Righteousness of God: Justification in Pauline Theology. He also served as a co-editor for several volumes: Paul and the Apocalyptic Imagination; Reading Romans in Context: Paul and Second Temple Judaism; and Reading Mark in Context: Jesus and Second Temple Judaism.
Jason Maston (PhD, University of Durham) is Lecturer in New Testament at Highland Theological College UHI (UK). He is the author of Divine and Human Agency in Second Temple Judaism and Paul: A Comparative Approach and contributor to and co-editor (with Michael F. Bird) of Earliest Christian History: History, Literature and Theology. Essays from the Tyndale Fellowship in Honor of Martin Hengel.