Podcast: Play in new window | Download | Embed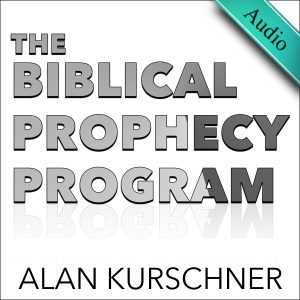 Dr. Kurschner continues a series giving reasons why the bowl judgments follow after the sounding of the seventh trumpet, and not before as the recapitulation framework would have it. In Part 2, he argues that the identity of the "third woe" is the series of bowl judgments, especially the seventh and final bowl.
'The third woe (οὐαί) is coming very soon'
Three "woes" represent progressive devastations upon God's enemies: "Then I looked, and I heard an eagle crying with a loud voice as it flew in midheaven, 'Woe, woe, woe to the inhabitants of the earth, at the blasts of the other trumpets that the three angels are about to blow!'" (8:13). These three woes correspond to the "other trumpets," which are respectively the fifth, sixth, (9:12), and seventh trumpet ("The second woe has passed. The third woe is coming very soon," 11:14). The seventh trumpet as noted earlier pronounces the Lord's reclamation of his kingdom, warns he will "destroy" those who "destroy the earth" (11:18). The seventh trumpet should be construed as the third and final woe, but as we will see only in the sense that it anticipates the last series of God's wrath realized in the bowl judgments. This is not unprecedented, because the opening of the seventh seal reveals that its contents are expressed in the trumpet judgments. Likewise the blowing of the seventh trumpet/third woe will be expressed in the bowl judgments, AND more specifically, the final, seventh bowl judgment of the destruction of the great city, which will be caused by "a violent earthquake, such as had not occurred since people were upon the earth, so violent was that earthquake" (16:18).
Some have attempted to identify the third woe with Rev 12:12. "Rejoice then, you heavens and those who dwell in them! But woe to the earth and the sea, for the devil has come down to you with great wrath, because he knows that his time is short!" However, I think it is strained to construe it as the third woe, because it expresses the devil's wrath, not God's; moreover, it is unlikely because it is not part of the elements of the septet construction as the first two woes are. It is interesting that in the account of the fallen great city there are three sets of two-fold exclamations of οὐαί. This lexical repetition associated with the most devastating judgment of God in the septets series comports most plausibly with 11:14: "the third woe is coming very soon."
"they will stand far off, in fear of her torment, and say, "Alas, alas, the great city, Babylon, the mighty city! For in one hour your judgment has come." "Alas, alas, the great city, clothed in fine linen, in purple and scarlet, adorned with gold, with jewels, and with pearls! And they threw dust on their heads, as they wept and mourned, crying out, "Alas, alas, the great city, where all who had ships at sea grew rich by her wealth! For in one hour she has been laid waste." (Rev 18:10, 16, 19)
The great city was split into three parts, and the cities of the nations fell. God remembered great Babylon and gave her the wine-cup of the fury of his wrath. (Rev 16:19)
Links mentioned in today's program:
Why the Bowls Follow AFTER the Trumpet Judgements: A Response to Recapitulation on the Reclamation of the Kingdom (Part 1) – Ep. 153