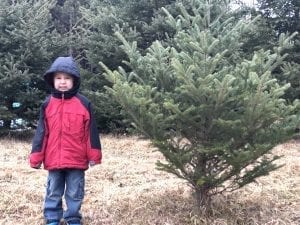 Sunday afternoon, my son and I cut down a Balsam Fir in the northwoods of Wisconsin. We are hoping for a White Christmas!
The next day we decorated the tree and I set out a few Christmas gifts for him under the tree.
Now what happened next was my 4 year old son refuted the pretrib imminent rapture.
I told him that he could not open these gifts until Christmas day.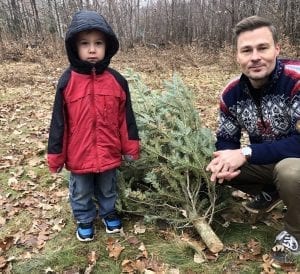 According to pretribulation reasoning, since Christmas day is not imminent, then my son's expectation for Christmas day should be "diminished." I am "robbing" my son of his hope for receiving gifts.
But this pretribulation psychological argument is experientially and biblically flawed.
Rather than diminishing his expectant hope, the opposite happened. The prospects of him learning that he had to wait—only intensified his hope! His expectation was heightened, not dashed.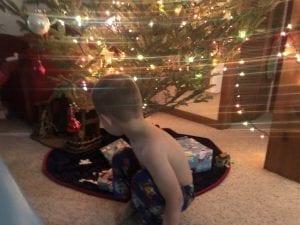 He woke up this morning excited and anticipating Christmas day, even though there are intervening events and weeks before Christmas would arrive.
In other words, the arrival of Christmas is delayed.
Likewise, Jesus's parousia and the return to rapture God's people is delayed. It is not imminent. There are intervening events that must happen before Christ's day will arrive when we receive the greatest gift: Jesus himself, face-to-face.
Because Christ's return is not imminent, it should only intensify our expectation, not diminish it. If fact, if Christ's delayed return and knowing that the Antichrist 's persecution will happen first diminishes your hope, then your theology on this topic is skewed and not consistent with the biblical authors.
For example, let's share the same attitude that the apostle Peter had concerning persecution during Jesus's delayed return:
"Dear friends, do not be astonished that a trial by fire is occurring among you, as though something strange were happening to you. But rejoice in the degree that you have shared in the sufferings of Christ, so that when his glory is revealed you may also rejoice and be glad. If you are insulted for the name of Christ, you are blessed, because the Spirit of glory, who is the Spirit of God, rests on you. . . . Then when the Chief Shepherd appears, you will receive the crown of glory that never fades away."
Peter's hope was not diminished! Instead, he could "rejoice" during Jesus's delayed return.