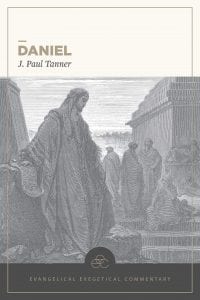 Daniel: Evangelical Exegetical Commentary by J. Paul Tanner
Get it on Amazon.
In this volume from the Evangelical Exegetical Commentary, Paul Tanner argues that the book of Daniel is the Old Testament blueprint of the Bible's overarching eschatological narrative. Tanner examines key aspects of the book of Daniel such as the revelation of Israel's future in relation to gentile kingdoms, God's exaltation of Daniel as a channel through whom he reveals his will and God's sovereign control of the nations under whom Israel is being disciplined. Tanner provides exegetical insight to help readers better understand not only how God worked in Israel's history through Daniel, but how he sovereignly directs all of world history―for all time.

J. Paul Tanner is the Middle East Director for BEE World. He travels frequently to various Middle Eastern countries to teach courses for Arab believers in Christ. Over the course of his career, he has taught at five seminaries around the world, including the Jordan Evangelical Theological Seminary in Amman, Jordan. He and his wife Linda lived in Jordan for five years while Paul served as professor of Hebrew and Old Testament studies and as the academic dean of the school. He has published articles in academic journals, including Bibliotheca Sacra, the Journal of the Evangelical Theological Society, and Trinity Journal. He holds a PhD in Hebrew Literature and Culture from the University of Texas at Austin.
Get it on Amazon.