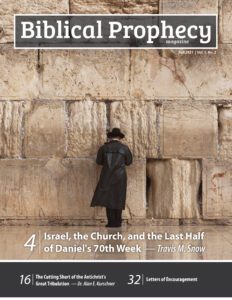 The next issue of Biblical Prophecy Magazine is being printed next week.
Thanks for everyone's patience since it was delayed! Please allow a couple of weeks of delivery within the United States and a month or two for Non-U.S. subscriptions.
For those who are not subscribed to the magazine, you can subscribe here. Be sure to subscribe to either U.S. or Non-U.S
Eschatos Partners receive complimentary issues for participating in the monthly giving program.