Podcast: Play in new window | Download | Embed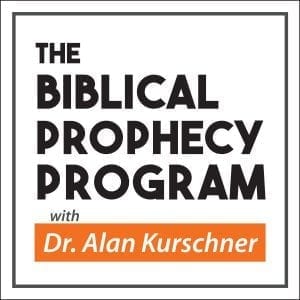 Dr. Alan Kurschner gives a lecture on "Antichrist Takes His Seat in the Temple of God – 2 Thessalonians 2"
This is part 4 of 6 sessions from the Minnesota Bible prophecy conference on the Abomination of Desolation, Oct 1–2, 2021, at Conquering King Fellowship in Inver Grove Heights The speakers were Alan Kurschner and Ryan Habbena.
2 Thess 2:3: "Let no one in any way deceive you, for it [the day of the Lord] will not come unless the apostasy [apostasia] comes first [prōton], and the man of lawlessness is revealed, the son of destruction" (NASB).
Dr. Kurschner explains the key term protos that means first. Paul is clearly teaching that the revelation of the Antichrist and the apostasy will occur first, that is, before the day of the Lord.
The Greek is constructed with the conditional "unless" (ean mē) coupled with the adverb "first" (prōton), which results in placing the conditional events sequentially before the main event. There are only two other places in the New Testament that this construction occurs (listen to the podcast!).
One particular pretrib objection argues that the Greek word behind "rebellion" or "apostasy" (apostasia, ἀποστασία) can carry the meaning of a "physical and spatial departure," thereby suggesting that Paul has the rapture in mind when he uses this word in this verse.
The embarrassing problem (that they ignore) is the noun apostasia never means a "physical departure" in Koine Greek.
See the video version: